HISTORY OF TOWNELEY HALL
BY JANET WOOD
Art Gallery and Museum

Towneley Hall is a grade I listed building set in the landscape of Towneley Park, Burnley.

My appreciation of Towneley Hall started some ten years ago when I literally stumbled upon it. Since then I have been a regular visitor. It's a majestic building, without being too austere and it has a friendly atmosphere which makes visitors feel welcomed. Most of the period rooms are richly decorated in warm 16th-17th century oak furnishings.

Situated half a mile south-east of Burnley, Lancashire, it lies within a 284 acre park and for over six centuries it was the residential home of the Towneley family, who lived there from the 13th century to 1902. The present house dates from the 14th and 16th century but owes much of its present-day appearance to the architect, Jeffry Wyatt (early 1800's).

Today, the Hall is an Art Gallery and Museum owned by Burnley Borough Council, housing collections of oil paintings, early English watercolours, period furniture, 18th century glassware, archaeology, Whalley Abbey vestments (dating from 1390-1420), East Lancashire Regiment memorabilia, natural history (not to mention the Towneley Black Himalayan Bear!) and exhibitions on loan.
| | | |
| --- | --- | --- |
| Hall and Pond | | Suit of Armour |
To give you an idea of the history and complicated architecture of the house I will attempt to briefly outline the Hall's origins.
It is recorded that Towneley first became the home of the ancient Catholic family during the lifetime of Richard of Towneley who died in 1295. However the present building construction probably started around 1400, although it has to be said little remains of this, apart from the sandstone wall (six feet thick at one part) on the courtyard side of the South East Wing. Close observation of the walls also reveals a half hidden window at ground level that tells us that the level was raised at some time, probably in the 1700's. An internal wall running between the kitchen and family dining room is also six feet thick and was, during mediaeval times, an external wall. At one time there were four wings to the House, but the fourth side was demolished between the years 1706-1711. Towneley Hall also boasts secret rooms, known as Priest Holes, that were used as hiding places during the persecution of Catholics in Elizabethan times. One such 'hide' still exists and can be viewed through a hole in the floor of a room near the Long Gallery.
There has been a Chapel at Towneley since the early 13th century and the present 'gothic' Chapel was probably built around 1515 by Sir John Towneley (1473-1541) on the fourth wing, but was moved to its present site, using the original materials, when the wing was demolished. The ceiling of the nave is carved with the initials of members of the Towneley family. The early 16th century Alterpiece is a magnificent example of Flemish craftsmanship and was installed during the late 1700's. Until the building of the Catholic Church in Burnley in 1846, the Chapel would have been used by staff and worshippers from the surrounding area.
| | | |
| --- | --- | --- |
| Towneley Private Chapel | | Carving on Altar |
The first major changes to the mediaeval building were undertaken during the 1600's by Richard Towneley (1566-1628). The kitchen was altered, however the two large archways that were the original fireplaces used for cooking, still exist. The 'Little Dining Room' was added. The oak staircase was built. And the eighty-four feet 'Long Gallery' and it's bedrooms, also dating from the 17th century, were constructed. The rectangular panelling of the Long Gallery has provision for family portraits and that's where they hung until 1901 when the Hall was sold to Burnley Corporation.
| | | |
| --- | --- | --- |
| 16th Century Bedroom | | Long Gallery |
Inscriptions on the panelling can still be seen recording the family members during the 17th and 18th centuries. In 1846, ninety two paintings hung in the Long Gallery. The bedrooms, adjacent to the Gallery, were used by guests and closed off when not in use as the Towneley family slept in the other wing.
The 1700's saw even greater alterations, when a great entrance hall with elaborate plaster work decoration replaced the mediaeval great hall. In fact the entrance hall is perhaps the finest example of the Baroque style in the country. The cantilever staircase, Chapel vestibule, brew house and main entrance arch, to name but a few, were also added at this time. These alterations were carried out by Charles (d.1712), Richard (1689-1735), William (1714-1742) and Charles Towneley (1737-1805). The pond was probably constructed in 1800, as it does not appear on Turner's drawing of Towneley Hall in 1798 but is included in the plans of Charles Towneley around that period.
In the 19th century, Peregrine Towneley (d.1846) inherited the Hall and it was he who employed the services of the renowned architect Jeffry Wyatt who enhanced the mediaeval appearance of Towneley Hall by elevating the South-East wing and adding battlements and turrets. Wyatt, was also the creator of the Red Drawing Room and the Blue Dining Room (situated in the oldest part of the Hall), and the external passage running beneath the porch which allowed the servants to carry food quickly from the kitchen to the dining room without having to pass through the entrance hall.
| | | |
| --- | --- | --- |
| Family Dining Room | | Staff Dining Room |
The Long Gallery, in need of serious renovation, was also repaired in the 1800's. Eventually the house was inherited by Peregrine's son, Charles (1803-1876), who made the last alterations, including a north tower. His successor, Alice Mary Towneley, was unable to maintain the Hall and eventually it was sold to Burnley Corporation in 1901, who opened it up to the general public in 1902 and gradually restored it to its present state, making mainly minor alterations as necessary. The brew house and laundry outhouses had fallen into disrepair and these were carefully restored, with the help of the Towneley Hall Society, and converted into a Museum of Local Crafts and Industries. What was left of the stables was made into a cafeteria for visitors.
The architects and craftsmen that have been associated with Towneley Hall are; Joseph Bonomi 1739-1808 (Architect), John Carr of York 1723-1807 (Architect), Richard Hayward 1728-1800 (Sculptor), Francesco Vassalli and Martino Quadri (Stuccoists) and Sir Jeffry Wyatt 1766-1840 (Architect).
The Towneley family has many renowned members amongst it's ranks, including several High Sheriffs of Lancashire, a Member of Parliament, several Knights, a Governor of Carlisle, several military Colonels and one unfortunate Francis Towneley, who was beheaded.
As I mentioned this is only a brief account of the Hall's history and does not do it true justice, but I hope it has whetted your appetite for more.
There are woodland walks and nature trails to follow, squirrels to feed (and capture on camera). The park includes two golf course, play areas, ornamental gardens, pitch and putt, tennis courts, sports pitches, a bowling green, picnic areas and facilities for football and cricket. And if this wasn't enough there is also a souvenir / gift shop, cafeteria and an organic community garden. Infact the only thing Towneley Hall doesn't appear to have is a ghost. Unless you know different....? (SEE BELOW!)
It is a house rich in history and art as the photographs testify. So why not pay them a visit? They will be glad to see you and I'm sure you won't be disappointed.
CURRENT OPENING HOURS, ADDMISSION, AND CONTACT DETAILS
The Hall is open Sat to Thurs 12-5 pm. Closed on Fridays (but open on Good Friday)
Admission to Towneley Hall is £3.50 for adults but free for children, students and Burnley residents.
Address: Towneley Hall Art Gallery & Museums, Towneley Park, Burnley, Lancs. BB11 3RQ
Tel: 01282 424213
Fax: 01282 436138
Email: towneleyhall@burnley.gov.uk

Towneley Hall is fully licensed for civil weddings and other venues, such as corporate events and meetings.

ACKNOWLEDGEMENTS: go to Susan Bourne, Curator of Towneley Hall, for allowing me access to photograph.


---
CONTRIBUTIONS FROM THE GENERAL PUBLIC


THE HALL PROVIDED A SECURE ENVIROMENT FOR A CHILD:
Recently I was contacted by Maureen Brereton, who informed me that her grandmother, Mary McManus, used to work at Towneley Hall in the 1890s when it was owned by Lady Alice Mary Towneley, who married the 1st Baron Thomas O'Hagan.

Mary was born in Leeds in 1883 and when she was aged five she was taken to St. Francis's Church in Holbeck, Leeds by her brother and sister and left there and never saw her family again. Sadly Mary lived her whole life thinking her family didn't want her but whilst tracing her family history Maureen discovered otherwise. At the time Mary was left at the church her mother had actually died, her father was a very sick man in the Leeds Workhouse and her brother and sister were sent to different institutions.

On the 1891 census, Mary, aged 8, was listed in the Leeds Moral and Industrial Training School for Pauper Children, a school that trained children for domestic service. In those days children started working at a very tender age, so Mary would have been very young when she first started work at Towneley Hall. Fortunately the hall provided a secure environment for staff with good food and accommodation and Mary was very happy there. When the hall was sold in 1901 Mary moved to Stockport with three nuns associated with Towneley Hall - probably from a convent in Burnley that it's thought Lady Alice may have sponsored. The Nuns opened a laundry in Reddish and Mary went to work for them.

When Maureen was a child her grandmother often spoke fondly about Lady Alice and her life at Towneley Hall and she remembers her gran telling her about carrying buckets of coal up flights of stairs. Maureen was very pleased to see the photos of the hall and especially that of the staff dining room where she could picture Mary eating her meals.

The tragic story of Mary's early childhood is heart-rendered, but it was good to hear that Towneley Hall played a part in helping to improve her situation and that she went on to have a good life and her own family.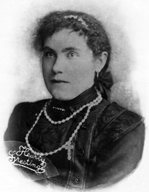 Mary McManus
---

UPDATE TO: Unless you know different......
Since writing this article I have actually been contacted by a several people regarding the sighting of a white ghost at Towneley Hall. Their stories are below.

25th August 2003:
I just thought I would drop you a line to say I have seen a white figure at the back of Towneley hall some several years ago. I was a Youth & Community worker at the time and we were holding an event which involved night orienteering in the grounds of Towneley Hall. There were four people who saw it at the same time and we couldn't believe what we all saw. We looked at the sight for at least a minute (which is quite a long time),when it started gliding towards us. The figure seemed to be a lady dressed in white from head to toe and appeared to be quite tall. We tried to think of a logical explanation to it but one couldn't be found! I have never mentioned it to anyone before but yesterday I went for a walk in Towneley and spoke to some archaeologists who were excavating a site and they mentioned that a white lady is said to haunt the downstairs of the hall!

25th September 2006: Submitted by Andrew Rutley
You asked if anyone has any experiences of the white lady who is said to haunt Towneley Hall and its grounds. I have lived in Burnley my whole life and what happened to me was a long time ago, but I can still remember it vividly. It was Oct 28th 1988, a Friday, about nine thirty at night. I was only 13 at the time and I was with two friends from school (Ivy Bank) and we were just messing around, we didn't seriously expect to see a ghost, we thought it was more of a schoolyard myth to be honest. We entered the grounds from the entrance close to Turf Moore and walked along the path that leads up to the hall itself. As we were walking I noticed that across the river that runs parallel with the path, there was a figure behind the trees that line the other side of the river. At first I thought it was someone walking a dog and didn't mention it to my friends. A few minutes later we reached the children's park - the one where the swings, and slide etc are all made of logs. We were sitting there and in the distance (from the opposite side from the river) I saw something gliding towards us, it was white, and human shaped/sized, but I couldn't see a womanly appearance, just a shape. It came very close to us, about 10 feet away, and was floating above the ground and shimmering, undoubtedly moving to us. We watched it for maybe 20 seconds and then we ran, screaming and laughing at the same time. It was a ghost, there is absolutely no doubt about it, and it had a profound influence in me and my beliefs.I was looking at your article because I plan to visit Towneley Hall in the next few days. I haven't been there for many years and I would love to encounter that same ghostly presence again, only this time I would try not to run away. I hope that my experience is of some help to you as you try to piece together the mystery.

15th March 2009: Submitted by Julie
It was in the early 1970s when Julie was visiting Towneley Hall with two of her friends and had an experienced that none of them would ever forget. It was late evening on a summerís day and it was starting to go dark when they stopped to chat at the old bandstand near the woods. Talking about nothing in particular suddenly something caught the girls attention and all three turn simultaneously to look to their left. It was then that they all saw the same thing, a light grey figure with a clearly defined body and head, moving towards them. But the most startling thing about the apparition was the height of the spectre, which was at least ten feet tall. Frightened out of their skins by the spirit one of the girls shouted, ĎRun!í and thatís what they did, not stopping until they were out of the park and onto the main road by which time they were all out of breath and badly shaken by what they had seen. Julie, who still lives in the area, regularly visits Towneley Hall but to this day has never seen the ghost again but the incident still remains very strong in her mind.


---
If you know of any other incidents with regards to a Towneley Hall ghost, or you have a special story regarding the hall I would love to hear from you and maybe add the information here.

My special thanks go to all the people who have already contacted me and kindly allowed us to print their story.
---
LINKS:
Towneley Online (Official site)
---
COPYRIGHT NOTICE: This illustrated article, (including photographs) is Copyrighted © 2001 by Janet Wood. All Rights Reserved. And must not to be reproduced without permission from the author. If you copy the text and/or images from this page and use them on your own web site, publish, or include this article in any collection without the authorís permission, you are in violation of international copyright law.
PLEASE NOTE: This copyright notice does not affect any website owner who would like to add an external link to this webpage from their own website. Also, if you feel that your website content would compliment this article please email us and we will be only too happy to consider placing a reciprocal link back to you.


---
All our library stock photography is represented by Alamy.com who provide image buyers with a single source for all their photographic needs, supported by innovative technology and strong customer service.

Stock photography by Mike and Janet Wood at Alamy
Ancient Egypt Photos by Mike and Janet Wood at Alamy
Royalty free images by Mike and Janet Wood at Alamy